The two Steering Committees, for sub-area Aurora and sub-area Sápmi, have met 14-15 June in Vaasa to decide on new cross-border cooperation projects in the northernmost part of Europe and Sápmi.
The Steering Committees approved 22 projects in this second call for applications. More than 13 million euro was allocated to stakeholders that will support sustainable development in the Programme area.
The Steering Committee for sub-area Sápmi approved two projects. One project will be sent on written procedure for a decision. One of the approved projects is Girku SOS that will promote psychic health in Sápmi. Veronika Håkansson, chair of the Steering Committee for sub-area Sápmi believes that the approved projects will make an important impact that will strengthen the Sámi society.
The Steering Committee for sub-area Aurora approved several regular and small-scale projects in all four Programme Priorities. The Steering Committee decided to appoint the four first "Operations of Strategic Importance" of the Programme. The aim is to ensure higher visibility for the public how EU funded projects can benefit our daily lives. One of the projects is Our Precious Transboundary Waters. Finnish and Norwegian authorities will cooperate across borders with water management and conserving biodiversity in Tana and Neiden rivers.
Ulrica Hammarström, chair of the Steering Committee for sub-area Aurora highlights the great engagement among the Steering Committee members. Cross-border cooperation is of great importance for the whole Programme area. In this call many projects within the Priority "Green and sustainable transition" were prioritized.
During the meeting days the Interreg Aurora Managing Authority and the Sápmi Steering Committee also had informal meetings with representatives from the European Commission.
The Steering Committee meetings in Vaasa were the last ones for Iiris Mäntyranta, Programme Director for the Interreg Aurora Programme. She will enjoy a very well-deserved retirement in the autumn. Iiris was warmly thanked for her great efforts and commitment in the field of cross-border cooperation. In September Tina Nilsson takes over as the new Programme Director.
Best wishes to all new approved projects for a successful cross-border cooperation.
List of approved projects, call 2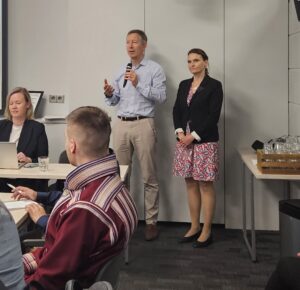 Jean-Pierre Halkin, Head of Unit, European Commission, DG REGIO Unit D.2 and Simona Pohlová, Deputy Head of Interreg, Cross-Border Cooperation, Internal Borders Unit D.2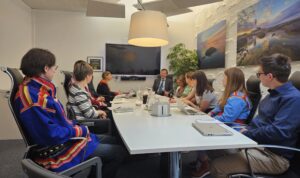 Members of the Sápmi Steering Committee and the Saami Council having an informal exchange with Director Slawomir Tokarski and Desk officer Dorota Witoldson from the European Commission DG REGIO