During Entrepreneurship Week in Oulu, a lot was happening, with one central theme being entrepreneurship education. The 'My Future – Our Future' event brought together approximately 90 secondary-level students and teachers from the Bothnian Arc and Torney Valley regions on September 6th-7th. This was the second cross border visit organized by Interreg Aurora Entrepreneurialis project.
New Tools for Learning Work Life Skills
Over the course of two days, students and teachers engrossed in entrepreneurship education and future work life skills. Led by Oulu City's development teachers Maikki Manninen and Paula Vorne, participants had the opportunity to develop their problem-solving abilities, teamwork skills, and responsibility through STEAM pedagogy. Enthusiastic discussions filled the room as everyone collaborated, sharing ideas while getting to know one another.
For most participants, STEAM methodology was a fresh and enjoyable way of working. "The STEAM process was a new and fun way to work," said Jonas Carlzon, a teacher at Strömbackaskolan High School in Piteå, Sweden.
Students and education staff also gained practical tools for future job searching from the event.
"One of the most important work life skills is self-awareness," explained Essi Lehtovaara from the NYT organization (JA Finland) as she guided young people in using the 'Duunikoutsi' app. The app is primarily designed for individuals aged 13 to 25 and provides information about the working life and job hunting. Duunikoutsi helps young people discover their strengths and skills while creating a resume for themselves.
"We teach students workplace skills, but new and modern methods like these are always welcome," noted Raija Paasimaa, who teaches economics at Vocational College Lappia and works as a project coordinator for the Aurora Entrepreneurialis project.
Company Visits: A Crucial Part of the Event
Students and education staff had the opportunity to explore future job possibilities and work life skills through visits to companies and organizations. According to the project's goals, these visits also emphasized entrepreneurial skills, sustainability, and the future prospects of the organizations.
The key future work life skills that emerged from the seven visits, included not only social and communication skills but also qualities like courage, openness, and proactivity.
Future Work Life Skills
Työn Taitajat (an operational model of youth influence developed in Oulu for cooperation between companies and educational institutions) coordinates the entrepreneurship education network in Northern Ostrobothnia, with the goal of promoting collaboration, serving as a platform for development activities, and bringing together individuals and organizations involved in the field. Through this collaboration, the aim is to enhance the knowledge of educational institutions, education staff, and students about the region's industries and the future skill requirements of companies.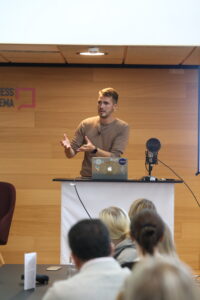 In collaboration with the entrepreneurship education network, participants had the opportunity to hear from futurist, inventor and author Perttu Pölönen about the future of working life and the necessary skills that come with it. Pölönen's presentation was one of the most anticipated parts of the event. He advised young students and education staff, saying, "Develop skills that machines cannot do."
In his presentation, Pölönen highlighted passion, creativity, curiosity, and patience as important work life skills. "Mistakes are great! The sooner you make mistakes, the faster you learn. But you also need to be patient; if you want to achieve something great, it takes time."
When asked how future workplace skills could be integrated into teaching, Pölönen pondered for a moment. "Skills I mentioned, such as honesty, ethics, critical thinking, creativity, perseverance, and teamwork, are not new in themselves, but I believe their importance will grow in the future, no matter what profession you pursue. These skills are taught in different subjects, but I think they could be made more prominent in teaching."
Networking and Lots of New Information
Participants seemed satisfied with the event's offerings. Besides gaining new knowledge, the opportunity to meet new people and build a network was considered valuable.
"The event was great! I especially liked the company visit. I learned a lot about businesses and gained knowledge that I will definitely use in the future," said Sanni from Vocational College Lappia in Tornio.
"The event was fantastic! It was nice to meet new people and network," said Mohammed from Gränsälvsgymnasiet High School in Ylitornio.
"These cross-border events are really good because you get to hear a wide range of opinions and thoughts. It was fun, and it's nice to use English properly. I did learn something new, and I'm looking forward to the next events!" commented Neea from Vocational College Lappia in Tornio.
Merja Lappalainen, a Swedish language teacher at Haukipudas High School, was delighted by unexpected encounters. "I met my former study buddy from decades ago and one of my former students!" She also found the small group discussions about the differences between the Finnish and Swedish school systems interesting. "When we hear how something is done differently elsewhere, we can get new ideas for our own work."
We will meet again in Luleå!
Next spring, in Luleå (Sweden), students and teachers will have the opportunity to explore the local business community, tackle sustainability-related challenges, and visit entrepreneurship fairs. The Aurora Entrepreneurialis project team will also organize virtual training sessions for education staff and support collaborative projects between individual schools and teachers.
"Collaboration with educational institutions and entrepreneurs made this event possible," expressed project leaders Kati Ilkka from the City of Oulu and Linda Strandenhed from Ung Företagsamhet Norrbotten, with satisfaction.
Special thank you to our company visit destinations: OAMK – NUVE Lab, KEKE Center, NOKIA, University of Oulu – Perception Engineering Research, Probot, OP-Pohjola and the City of Oulu Housing Fair Team.
The Aurora Entrepreneurialis project, funded by Interreg Aurora, is coordinated by the City of Oulu, Ung Företagsamhet Norrbotten, and Vocational College Lappia. The three-year project aims to develop sustainable entrepreneurship education, entrepreneurial culture, and cross-border cooperation in secondary-level institutions in the Bothnian Arc and Torne Valley regions."